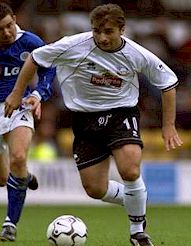 Kinky up for sale at £1.5 million
Giorgi Kinkladze may be leaving the club after manager Colin Todd responded to media speculation about Kinkladze this morning with this statement…"If Giorgi wants to leave the club then I am prepared to sell him".
Todd has denied that any speculation of the sale of Kinkladze has come from him or the club but he is expected to listen to any offers of around the £1.5million region.
It has been well documented that Kinkladze had to involve his solicitor in discussions with Todd a few weeks ago in an attempt to force the Rams manager to play the Georgian International.
This latest news now seems to seal the departure of the talented midfielder.