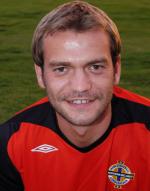 Roy Carroll very keen to play for the Rams
Ranger Keeper Roy Carroll is so desperate to come to the English Premier League and to join Derby County that he is willing to pay for the privilege!
Yes , you heard correctly, Roy is willing to stump up the £50,000 fee currently being asked by Rangers for the "rent" of Darren Ward. This would bring in the goalkeeping cover wanted by Walter Smith, even though Smith and Rangers refuse to pay the demands of Sunderland.
Carroll, who is 30 years of age really wants to prove himself in the Premier League again after success at Manchester United, helping them to the league title in 2002-03 season. Carroll's fall from grace happened in November 2006, when he was reportedly in a Rehabilitation centre suffering from the effects of Alcohol and Gambling, his family however said it was due to stress.
With just over a week left of the transfer window it may be too late for the switch from Rangers to Pride Park but you have to admire a man who will pay to play for Derby County....

Roy Carroll stats

Date of birth

Friday, 30th September 1977

Height

6.2

Place of birth

Enniskillen, Northern Ireland

Weight

11.0

Nationality

Northern Ireland

Position

Goal

Comments

Squad No.

25