Paul Jewell giving full backing by the club
Rams boss Paul Jewell has been given full backing after yesterday's exposé in the News of the World newspaper of his off field activities.
Jewell was seen romping with a blonde woman wearing stockings and suspenders and performing various acts in an hour long video.
Adam Pearson from the club has said that this all happened a long time ago and further investigation has revealed that the tape was made by Jewell when in charge of Wigan Athletic .
Derby's American owners are less than pleased with the news but hope that Jewell will put this behind him and get on with the job of forging a new tea for next seasons push for promotion from the Championship.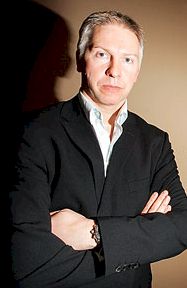 Adam Pearson speaking for the club says Jewell is staying as manager
Solicitors have been engaged by the Derby boss to stop the tape from becoming an internet favourite, with the people who crave to see this sort of thing. Paris Hilton and Pamela Anderson have now become infamous for their antics on the internet.
Jewell will obviously come in for some intense ribbing tomorrow when the Rams return from their Easter break and takes the first training session since the news broke yesterday...