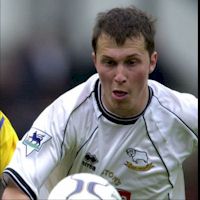 Richard Jackson has cost the Rams £150,000 which could rise to £300,000 with more appearances
Derby County see themselves having to pay out yet another large payment (£50,000) as part of Richard Jackson's transfer deal from Scarborough.
The 22-year-old defender from Whitby was originally signed from Scarborough in 1999 for an initial £30,000. Payments were due to Scarborough when Jackson made his league debut and his 10th senior game for the Rams.
This present payment of £50,000 is for Jackson's 20th senior game. The previous payments mean that Derby County have now paid the Yorkshire club some £150,000 for the services of Jackson. This could rise to £300,000 if Jackson continues to make appearances for the Rams in the future.