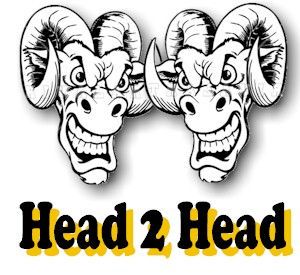 It's FA Cup time once again and today the Rams entertain non league Southport.
Not much history between the sides but the Rams have only lost once in four games to Southport.
Saturday 20th April 1957 saw the Rams lose 3-2 on Merseyside. So 57 years have passed since that defeat and hopefully there will be no giant killing in the FA Cup this Year.
At Derby County (2)
At Southport (2)
Results
Total
%
Results
Total
%
Derby County
2
100.00
Southport
1
50.00
Southport
0
0.00
Derby County
1
50.00
Draws
0
0.00
Draws
0
0.00
Goals
Total
Av.pg
Goals
Total
Av.pg
Derby County
4
2.00
Southport
5
2.50
Southport
0
0.00
Derby County
7
3.50
On Neutral Ground (0)
Overall (4 matches)
Results
Total
%
Results
Total
%
Derby County
0
0.00
Derby County
3
75.00
Southport
0
0.00
Southport
1
25.00
Draws
0
0.00
Draws
0
0.00
Goals
Total
Av.pg
Goals
Total
Av.pg
Derby County
0
0.00
Derby County
11
2.75
Southport
0
0.00
Southport
5
1.25
Records
Highest Aggregate
7
Southport
2 - 5
Derby County
1955/1956
Highest Derby County score:
5
Southport
2 - 5
Derby County
1955/1956
Highest Southport score:
3
Southport
3 - 2
Derby County
1956/1957
| Season | Date | Home | Score | Away | Competition |
| --- | --- | --- | --- | --- | --- |
| 1956/1957 | Sat 27 Apr | Derby County | 2 - 0 | Southport | Third Division (North) |
| | Sat 20 Apr | Southport | 3 - 2 | Derby County | Third Division (North) |
| 1955/1956 | Wed 31 Aug | Derby County | 2 - 0 | Southport | Third Division (North) |
| | Tue 23 Aug | Southport | 2 - 5 | Derby County | Third Division (North) |
| | | | | | |