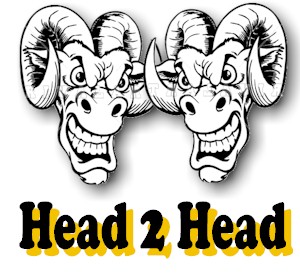 We take a look at the Rams Capital One Cup third round opponents Reading and the history between the two sides.
It is just over 23 years since Derby County first entertained Reading. The very first meeting on Saturday 22nd September 1984 ended in a 0-0 draw.
A surprising fact is that Reading have been formed for 143 years, way back in 1871, yet the first game between the two sides as we have already stated only happened in 1984.
Reading for all their history have very little to show in terms of winning anything. Indeed they have only been in the top flight of football for three seasons, yet they have a remarkable history over Derby County. The teams have met on 32 occasions, with Reading winning a staggering 19 times, Derby winning 8 and five draws.
Derby have a slightly better record when at home winning 7, but again Rreading equal that with 7 wins on Rams soil.2 matches ending in a draw. Luckily it would seem the Rams are at home tonight in the Capital One Cup. Had it been away at the Madejski Stadium, historically it would have been very hard for the Rams, having only won once there to Reading's 12 wins and three games drawn.
Here is the full match stats for Derby County V Reading:
At Derby County (16)
At Reading (16)
Results
Total
%
Results
Total
%
Derby County
7
43.75
Reading
12
75.00
Reading
7
43.75
Derby County
1
6.25
Draws
2
12.50
Draws
3
18.75
Goals
Total
Av.pg
Goals
Total
Av.pg
Derby County
27
1.69
Reading
32
2.00
Reading
23
1.44
Derby County
10
0.63
On Neutral Ground (0)
Overall (32 matches)
Results
Total
%
Results
Total
%
Derby County
0
0.00
Derby County
8
25.00
Reading
0
0.00
Reading
19
59.38
Draws
0
0.00
Draws
5
15.63
Goals
Total
Av.pg
Goals
Total
Av.pg
Derby County
0
0.00
Derby County
37
1.16
Reading
0
0.00
Reading
55
1.72
Records
Highest Aggregate
5
Reading
4 - 1
Derby County
2009/2010
Highest Derby County score:
4
Derby County
4 - 1
Reading
1984/1985
Highest Reading score:
5
Reading
5 - 0
Derby County
2005/2006
Season
Date
Home
Score
Away
Competition
2013/2014
Sat 15 Mar
Reading
0 - 0
Derby County
Championship
Sat 21 Sep
Derby County
1 - 3
Reading
Championship
2011/2012
Tue 14 Feb
Derby County
0 - 1
Reading
Championship
Tue 18 Oct
Reading
2 - 2
Derby County
Championship
2010/2011
Sat 07 May
Reading
2 - 1
Derby County
Championship
Sat 18 Dec
Derby County
1 - 2
Reading
Championship
2009/2010
Wed 10 Mar
Reading
4 - 1
Derby County
Championship
Sat 28 Nov
Derby County
2 - 1
Reading
Championship
2008/2009
Tue 21 Apr
Derby County
0 - 2
Reading
Championship
Sat 08 Nov
Reading
3 - 0
Derby County
Championship
2007/2008
Sun 11 May
Derby County
0 - 4
Reading
Premier League
Sun 07 Oct
Reading
1 - 0
Derby County
Premier League
2005/2006
Sat 01 Apr
Reading
5 - 0
Derby County
Championship
Sat 31 Dec
Derby County
2 - 2
Reading
Championship
2004/2005
Mon 03 Jan
Reading
0 - 1
Derby County
Championship
Sat 11 Sep
Derby County
2 - 1
Reading
Championship
2003/2004
Sat 31 Jan
Reading
3 - 1
Derby County
League Division One
Sat 23 Aug
Derby County
2 - 3
Reading
League Division One
2002/2003
Sat 28 Dec
Reading
2 - 1
Derby County
League Division One
Sat 10 Aug
Derby County
3 - 0
Reading
League Division One
1995/1996
Sat 13 Jan
Derby County
3 - 0
Reading
League Division One
Sat 19 Aug
Reading
3 - 2
Derby County
League Division One
1994/1995
Sat 11 Feb
Reading
1 - 0
Derby County
League Division One
Wed 02 Nov
Derby County
1 - 2
Reading
League Division One
Wed 28 Sep
Derby County
2 - 0
Reading
League Cup
after extra time, 90 minutes 2-0, aggregate 3-3, Derby County won on away goals rule
Tue 20 Sep
Reading
3 - 1
Derby County
League Cup
1986/1987
Mon 04 May
Reading
2 - 0
Derby County
Second Division
Sat 06 Dec
Derby County
3 - 0
Reading
Second Division
1985/1986
Sat 26 Apr
Reading
1 - 0
Derby County
Third Division
Sat 30 Nov
Derby County
1 - 1
Reading
Third Division
1984/1985
Wed 17 Apr
Derby County
4 - 1
Reading
Third Division
Sat 22 Sep
Reading
0 - 0
Derby County
Third Division