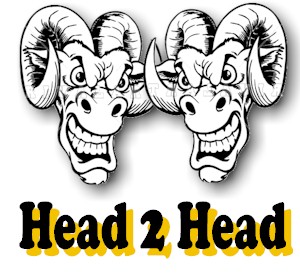 Millwall, no one likes them, or so their supporters continue to remind us. They do however continue to be an enigma to Derby County. We have lost more times to them than we have won.
Just over a year ago we walloped Millwall five-one in their own back yard, yet conversely we managed to lose one-nil at home in the run in to the Championship.
Derby County first met Millwall on Saturday 8th October 1966 and funnily enough we won, again by five goals to one.
The fact Derby have only ever done the double over Millwall once in the 1968-69 season, shows what a hard side they are to beat on their day.
So you never quite know what Millwall you will face if history is anything to go by. You have to say though that Derby do now look a team ready and willing to make the transition from promotion contenders to promotion winners and a good win against Millwall will go a long way to see that that is what happens, but then again Millwall are an enigma, so watch this space.
I guess most people of an age to remember will never forget the infamous play-off semi-final second leg of the 1993-94 season, Derby won that by a five-one aggregate score line. Funny how five-one keeps coming up in games. Well that game ended with a pitch invasion and unsavoury scenes in and outside the ground……. That is why people don't like you Millwall, hopefully you have mellowed and now you do care, at least about the football...
Score prediction, well it had to be really, Derby County 5 Millwall 1.
All the games played against Millwall;
At Derby County (22)
At Millwall (22)
Results
Total
%
Results
Total
%
Derby County
9
40.91
Millwall
10
45.45
Millwall
7
31.82
Derby County
6
27.27
Draws
6
27.27
Draws
6
27.27
Goals
Total
Av.pg
Goals
Total
Av.pg
Derby County
30
1.36
Millwall
29
1.32
Millwall
23
1.05
Derby County
23
1.05
On Neutral Ground (0)
Overall (44 matches)
Results
Total
%
Results
Total
%
Derby County
0
0.00
Derby County
15
34.09
Millwall
0
0.00
Millwall
17
38.64
Draws
0
0.00
Draws
12
27.27
Goals
Total
Av.pg
Goals
Total
Av.pg
Derby County
0
0.00
Derby County
53
1.20
Millwall
0
0.00
Millwall
52
1.18
Records
Highest Aggregate
6
Millwall
1 - 5
Derby County
2013/2014
Highest Derby County score:
5
Millwall
1 - 5
Derby County
2013/2014
Highest Millwall score:
4
Millwall
4 - 1
Derby County
1994/1995
Season
Date
Home
Score
Away
Competition
2013/2014
Sat 08 Mar
Derby County
0 - 1
Millwall
Championship
Sat 14 Sep
Millwall
1 - 5
Derby County
Championship
2012/2013
Sat 04 May
Derby County
1 - 0
Millwall
Championship
Sat 10 Nov
Millwall
2 - 1
Derby County
Championship
2011/2012
Sat 11 Feb
Millwall
0 - 0
Derby County
Championship
Sat 24 Sep
Derby County
3 - 0
Millwall
Championship
2010/2011
Mon 03 Jan
Derby County
0 - 0
Millwall
Championship
Sat 23 Oct
Millwall
2 - 0
Derby County
Championship
2009/2010
Tue 12 Jan
Derby County
1 - 1
Millwall
F.A. Cup
after extra time, 90 minutes 0-0, Derby County won 5-3 on penalties
Sat 02 Jan
Millwall
1 - 1
Derby County
F.A. Cup
2005/2006
Sat 08 Apr
Derby County
1 - 0
Millwall
Championship
Mon 02 Jan
Millwall
2 - 1
Derby County
Championship
2004/2005
Tue 28 Dec
Derby County
0 - 3
Millwall
Championship
Wed 22 Sep
Millwall
3 - 1
Derby County
Championship
2003/2004
Sat 01 May
Derby County
2 - 0
Millwall
League Division One
Sat 22 Nov
Millwall
0 - 0
Derby County
League Division One
2002/2003
Wed 16 Apr
Derby County
1 - 2
Millwall
League Division One
Sat 26 Oct
Millwall
3 - 0
Derby County
League Division One
1995/1996
Sat 16 Dec
Millwall
0 - 1
Derby County
League Division One
Sun 01 Oct
Derby County
2 - 2
Millwall
League Division One
1994/1995
Sat 11 Mar
Derby County
3 - 2
Millwall
League Division One
Sat 27 Aug
Millwall
4 - 1
Derby County
League Division One
1993/1994
Wed 18 May
Millwall
1 - 3
Derby County
Football League Play-Offs (Lvl 2)
Derby County won 5-1 on aggregate
Sun 15 May
Derby County
2 - 0
Millwall
Football League Play-Offs (Lvl 2)
Sat 12 Mar
Derby County
0 - 0
Millwall
League Division One
Sat 18 Sep
Millwall
0 - 0
Derby County
League Division One
1992/1993
Sat 13 Mar
Millwall
1 - 0
Derby County
League Division One
Sat 07 Nov
Derby County
1 - 2
Millwall
League Division One
1991/1992
Sat 08 Feb
Derby County
0 - 2
Millwall
Second Division
Sat 26 Oct
Millwall
1 - 2
Derby County
Second Division
1989/1990
Sat 14 Apr
Derby County
2 - 0
Millwall
First Division
Mon 01 Jan
Millwall
1 - 1
Derby County
First Division
1988/1989
Sat 31 Dec
Derby County
0 - 1
Millwall
First Division
Sat 03 Sep
Millwall
1 - 0
Derby County
First Division
1986/1987
Sat 28 Feb
Millwall
0 - 1
Derby County
Second Division
Sat 20 Sep
Derby County
1 - 1
Millwall
Second Division
1984/1985
Wed 03 Apr
Derby County
1 - 2
Millwall
Third Division
Tue 02 Oct
Millwall
2 - 1
Derby County
Third Division
1968/1969
Sat 12 Apr
Millwall
0 - 1
Derby County
Second Division
Sat 21 Sep
Derby County
1 - 0
Millwall
Second Division
1967/1968
Sat 24 Feb
Millwall
1 - 1
Derby County
Second Division
Sat 07 Oct
Derby County
3 - 3
Millwall
Second Division
1966/1967
Sat 25 Feb
Millwall
3 - 2
Derby County
Second Division
Sat 08 Oct
Derby County
5 - 1
Millwall
Second Division