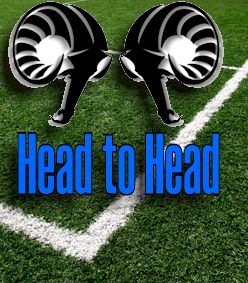 Derby County look forward to the fierce rivalry that exists between the Rams and Leeds United. The rivalry goes back to the Brian Clough and Don Revie era.
The Rams have a narrow advantage in games won when at home, winning 22 to Leeds 19, with 14 matches ending in a draw. A very much different state of affairs exists when you look at Derby County's record at Elland Road, the Rams winning on only 9 occasions to Leeds 32 victories, with 11 games drawn.
It is always a bruising encounter with the dirty Leeds but usually very entertaining, the large Leeds following also brings that touch of extra magic to this fixture and a great atmosphere is expected tomorrow at Pride Park.
The complete record of all games between the two sides is below, if you should want to check on the stats between Derby County and any of the team they have played in the past please take a look at the comprehensive records in our 'Head to Head' section on our main website...
At Derby County (55)
At Leeds Utd. (52)
Results
Total
%
Results
Total
%
Derby County
22
40.00
Leeds Utd.
32
61.54
Leeds Utd.
19
34.55
Derby County
9
17.31
Draws
14
25.45
Draws
11
21.15
Goals
Total
Av.pg
Goals
Total
Av.pg
Derby County
85
1.55
Leeds Utd.
89
1.71
Leeds Utd.
72
1.31
Derby County
44
0.85
On Neutral Ground (0)
Overall (107 matches)
Results
Total
%
Results
Total
%
Derby County
0
0.00
Derby County
31
28.97
Leeds Utd.
0
0.00
Leeds Utd.
51
47.66
Draws
0
0.00
Draws
25
23.36
Goals
Total
Av.pg
Goals
Total
Av.pg
Derby County
0
0.00
Derby County
129
1.21
Leeds Utd.
0
0.00
Leeds Utd.
161
1.50
Records
Highest Aggregate
8
Derby County
5 - 3
Leeds Utd.
1936/1937
Highest Derby County score:
5
Derby County
5 - 1
Leeds Utd.
1932/1933
Highest Leeds Utd. score:
5
Derby County
0 - 5
Leeds Utd.
1997/1998
Season
Date
Home
Score
Away
Competition
2011/2012
Mon 09 Apr
Leeds Utd.
0 - 2
Derby County
Championship
Mon 26 Dec
Derby County
1 - 0
Leeds Utd.
Championship
2010/2011
Tue 12 Apr
Derby County
2 - 1
Leeds Utd.
Championship
Sat 07 Aug
Leeds Utd.
1 - 2
Derby County
Championship
2008/2009
Tue 11 Nov
Derby County
2 - 1
Leeds Utd.
League Cup
2006/2007
Sun 06 May
Derby County
2 - 0
Leeds Utd.
Championship
Sat 09 Dec
Leeds Utd.
0 - 1
Derby County
Championship
2005/2006
Sat 11 Feb
Derby County
0 - 0
Leeds Utd.
Championship
Wed 28 Sep
Leeds Utd.
3 - 1
Derby County
Championship
2004/2005
Wed 26 Jan
Derby County
2 - 0
Leeds Utd.
Championship
Sat 07 Aug
Leeds Utd.
1 - 0
Derby County
Championship
2001/2002
Sat 27 Apr
Derby County
0 - 1
Leeds Utd.
Premiership
Sun 23 Sep
Leeds Utd.
3 - 0
Derby County
Premiership
2000/2001
Sat 10 Feb
Leeds Utd.
0 - 0
Derby County
Premiership
Sat 23 Sep
Derby County
1 - 1
Leeds Utd.
Premiership
1999/2000
Sun 05 Dec
Derby County
0 - 1
Leeds Utd.
Premiership
Sat 07 Aug
Leeds Utd.
0 - 0
Derby County
Premiership
1998/1999
Sat 20 Mar
Leeds Utd.
4 - 1
Derby County
Premiership
Sat 31 Oct
Derby County
2 - 2
Leeds Utd.
Premiership
1997/1998
Sun 15 Mar
Derby County
0 - 5
Leeds Utd.
Premiership
Sat 08 Nov
Leeds Utd.
4 - 3
Derby County
Premiership
1996/1997
Wed 29 Jan
Leeds Utd.
0 - 0
Derby County
Premiership
Sat 17 Aug
Derby County
3 - 3
Leeds Utd.
Premiership
1995/1996
Sun 07 Jan
Derby County
2 - 4
Leeds Utd.
F.A. Cup
Wed 25 Oct
Derby County
0 - 1
Leeds Utd.
League Cup
1990/1991
Tue 23 Apr
Derby County
0 - 1
Leeds Utd.
First Division
Tue 22 Jan
Leeds Utd.
2 - 1
Derby County
(Full Members)
Sat 17 Nov
Leeds Utd.
3 - 0
Derby County
First Division
1986/1987
Sat 02 May
Derby County
2 - 1
Leeds Utd.
Second Division
Sat 29 Nov
Leeds Utd.
2 - 0
Derby County
Second Division
1983/1984
Sat 14 Apr
Leeds Utd.
0 - 0
Derby County
Second Division
Sat 19 Nov
Derby County
1 - 1
Leeds Utd.
Second Division
1982/1983
Sat 22 Jan
Derby County
3 - 3
Leeds Utd.
Second Division
Sat 18 Sep
Leeds Utd.
2 - 1
Derby County
Second Division
1979/1980
Sat 05 Apr
Derby County
2 - 0
Leeds Utd.
First Division
Tue 01 Jan
Leeds Utd.
1 - 0
Derby County
First Division
1978/1979
Sat 10 Mar
Derby County
0 - 1
Leeds Utd.
First Division
Sat 28 Oct
Leeds Utd.
4 - 0
Derby County
First Division
1977/1978
Wed 12 Apr
Leeds Utd.
2 - 0
Derby County
First Division
Sat 17 Sep
Derby County
2 - 2
Leeds Utd.
First Division
1976/1977
Sat 12 Feb
Derby County
0 - 1
Leeds Utd.
First Division
Sat 04 Sep
Leeds Utd.
2 - 0
Derby County
First Division
1975/1976
Tue 02 Mar
Leeds Utd.
1 - 1
Derby County
First Division
Sat 01 Nov
Derby County
3 - 2
Leeds Utd.
First Division
1974/1975
Tue 18 Feb
Derby County
0 - 1
Leeds Utd.
F.A. Cup
Sat 08 Feb
Derby County
0 - 0
Leeds Utd.
First Division
Sat 02 Nov
Leeds Utd.
0 - 1
Derby County
First Division
1973/1974
Sat 06 Apr
Leeds Utd.
2 - 0
Derby County
First Division
Sat 24 Nov
Derby County
0 - 0
Leeds Utd.
First Division
1972/1973
Sat 17 Mar
Derby County
0 - 1
Leeds Utd.
F.A. Cup
Sat 03 Mar
Derby County
2 - 3
Leeds Utd.
First Division
Sat 07 Oct
Leeds Utd.
5 - 0
Derby County
First Division
1971/1972
Sat 01 Apr
Derby County
2 - 0
Leeds Utd.
First Division
Mon 27 Dec
Leeds Utd.
3 - 0
Derby County
First Division
Mon 27 Sep
Leeds Utd.
2 - 0
Derby County
League Cup
Wed 08 Sep
Derby County
0 - 0
Leeds Utd.
League Cup
1970/1971
Sat 06 Mar
Leeds Utd.
1 - 0
Derby County
First Division
Sat 24 Oct
Derby County
0 - 2
Leeds Utd.
First Division
1969/1970
Mon 30 Mar
Derby County
4 - 1
Leeds Utd.
First Division
Sat 25 Oct
Leeds Utd.
2 - 0
Derby County
First Division
1967/1968
Wed 07 Feb
Leeds Utd.
3 - 2
Derby County
League Cup
Leeds United won 4-2 on aggregate
Sat 27 Jan
Leeds Utd.
2 - 0
Derby County
F.A. Cup
Wed 17 Jan
Derby County
0 - 1
Leeds Utd.
League Cup
1963/1964
Sat 28 Mar
Derby County
1 - 1
Leeds Utd.
Second Division
Sat 19 Oct
Leeds Utd.
2 - 2
Derby County
Second Division
1962/1963
Sat 02 Mar
Leeds Utd.
3 - 1
Derby County
Second Division
Sat 13 Oct
Derby County
0 - 0
Leeds Utd.
Second Division
1961/1962
Sat 21 Apr
Leeds Utd.
0 - 0
Derby County
Second Division
Wed 10 Jan
Derby County
3 - 1
Leeds Utd.
F.A. Cup
Sat 06 Jan
Leeds Utd.
2 - 2
Derby County
F.A. Cup
Sat 02 Dec
Derby County
3 - 3
Leeds Utd.
Second Division
1960/1961
Tue 27 Dec
Leeds Utd.
3 - 3
Derby County
Second Division
Sat 24 Dec
Derby County
2 - 3
Leeds Utd.
Second Division
1954/1955
Sat 26 Feb
Leeds Utd.
1 - 0
Derby County
Second Division
Sat 09 Oct
Derby County
2 - 4
Leeds Utd.
Second Division
1953/1954
Sat 13 Mar
Derby County
0 - 2
Leeds Utd.
Second Division
Sat 24 Oct
Leeds Utd.
3 - 1
Derby County
Second Division
1946/1947
Sat 26 Apr
Derby County
2 - 1
Leeds Utd.
First Division
Sat 21 Dec
Leeds Utd.
1 - 2
Derby County
First Division
1938/1939
Sat 01 Apr
Derby County
1 - 0
Leeds Utd.
First Division
Sat 26 Nov
Leeds Utd.
1 - 4
Derby County
First Division
1937/1938
Sat 26 Mar
Leeds Utd.
0 - 2
Derby County
First Division
Sat 13 Nov
Derby County
2 - 2
Leeds Utd.
First Division
1936/1937
Sat 10 Apr
Leeds Utd.
2 - 0
Derby County
First Division
Sat 05 Dec
Derby County
5 - 3
Leeds Utd.
First Division
1935/1936
Sat 11 Apr
Derby County
2 - 1
Leeds Utd.
First Division
Sat 07 Dec
Leeds Utd.
1 - 0
Derby County
First Division
1934/1935
Sat 13 Apr
Derby County
1 - 2
Leeds Utd.
First Division
Sat 01 Dec
Leeds Utd.
4 - 2
Derby County
First Division
1933/1934
Wed 31 Jan
Leeds Utd.
0 - 2
Derby County
First Division
Sat 16 Sep
Derby County
3 - 1
Leeds Utd.
First Division
1932/1933
Sat 31 Dec
Derby County
5 - 1
Leeds Utd.
First Division
Sat 27 Aug
Leeds Utd.
0 - 2
Derby County
First Division
1930/1931
Sat 02 May
Leeds Utd.
3 - 1
Derby County
First Division
Wed 03 Sep
Derby County
4 - 1
Leeds Utd.
First Division
1929/1930
Thu 26 Dec
Derby County
3 - 0
Leeds Utd.
First Division
Wed 25 Dec
Leeds Utd.
2 - 1
Derby County
First Division
1928/1929
Sat 06 Apr
Leeds Utd.
1 - 1
Derby County
First Division
Sat 24 Nov
Derby County
3 - 4
Leeds Utd.
First Division
1926/1927
Sat 19 Feb
Derby County
1 - 0
Leeds Utd.
First Division
Sat 11 Sep
Leeds Utd.
1 - 0
Derby County
First Division
1923/1924
Sat 19 Apr
Derby County
2 - 0
Leeds Utd.
Second Division
Sat 12 Apr
Leeds Utd.
1 - 1
Derby County
Second Division
1922/1923
Sat 05 May
Leeds Utd.
1 - 0
Derby County
Second Division
Sat 28 Apr
Derby County
0 - 1
Leeds Utd.
Second Division
1921/1922
Sat 11 Mar
Derby County
2 - 0
Leeds Utd.
Second Division
Sat 04 Mar
Leeds Utd.
2 - 1
Derby County
Second Division