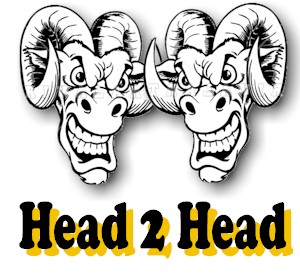 Derby travel to London to play Charlton Athletic and we take a look at the historical results between the two sides.
The Rams has quite a good record against Charlton, winning 32 of the 78 games that have taken place since Saturday 14th November 1936. A game Derby lost 2-0, but getting their revenge when th two sides met at the baseball ground. Derby running out 5-0 winners.
Derby's greatest defeat of Charlton remains the 1946 FA Cup final, which saw the Rams lift the trophy for the first and so far only time...
Here is the full list of games:
At Charlton Ath. (39)
At Derby County (39)
Results
Total
%
Results
Total
%
Charlton Ath.
15
38.46
Derby County
17
43.59
Derby County
15
38.46
Charlton Ath.
12
30.77
Draws
9
23.08
Draws
10
25.64
Goals
Total
Av.pg
Goals
Total
Av.pg
Charlton Ath.
63
1.62
Derby County
72
1.85
Derby County
59
1.51
Charlton Ath.
55
1.41
On Neutral Ground (0)
Overall (78 matches)
Results
Total
%
Results
Total
%
Charlton Ath.
0
0.00
Charlton Ath.
27
34.62
Derby County
0
0.00
Derby County
32
41.03
Draws
0
0.00
Draws
19
24.36
Goals
Total
Av.pg
Goals
Total
Av.pg
Charlton Ath.
0
0.00
Charlton Ath.
118
1.51
Derby County
0
0.00
Derby County
131
1.68
Records
Highest Aggregate
8
Derby County
4 - 4
Charlton Ath.
1964/1965
Highest Charlton Ath. score:
6
Charlton Ath.
6 - 1
Derby County
1959/1960
Highest Derby County score:
5
Derby County
5 - 0
Charlton Ath.
1950/1951
| Season | Date | Home | Score | Away | Competition |
| --- | --- | --- | --- | --- | --- |
| 2013/2014 | Sat 29 Mar | Derby County | 3 - 0 | Charlton Ath. | Championship |
| | Sat 14 Dec | Charlton Ath. | 0 - 2 | Derby County | Championship |
| 2012/2013 | Sat 29 Dec | Charlton Ath. | 1 - 1 | Derby County | Championship |
| | Tue 18 Sep | Derby County | 3 - 2 | Charlton Ath. | Championship |
| 2008/2009 | Sat 25 Apr | Derby County | 1 - 0 | Charlton Ath. | Championship |
| | Mon 15 Dec | Charlton Ath. | 2 - 2 | Derby County | Championship |
| 2001/2002 | Tue 29 Jan | Charlton Ath. | 1 - 0 | Derby County | Premiership |
| | Sat 20 Oct | Derby County | 1 - 1 | Charlton Ath. | Premiership |
| 2000/2001 | Tue 30 Jan | Charlton Ath. | 2 - 1 | Derby County | Premiership |
| | Sun 10 Sep | Derby County | 2 - 2 | Charlton Ath. | Premiership |
| 1998/1999 | Sat 20 Feb | Derby County | 0 - 2 | Charlton Ath. | Premiership |
| | Sat 12 Sep | Charlton Ath. | 1 - 2 | Derby County | Premiership |
| 1995/1996 | Sun 14 Apr | Charlton Ath. | 0 - 0 | Derby County | League Division One |
| | Sat 18 Nov | Derby County | 2 - 0 | Charlton Ath. | League Division One |
| 1994/1995 | Sat 14 Jan | Charlton Ath. | 3 - 4 | Derby County | League Division One |
| | Sat 29 Oct | Derby County | 2 - 2 | Charlton Ath. | League Division One |
| 1993/1994 | Sat 16 Apr | Derby County | 2 - 0 | Charlton Ath. | League Division One |
| | Tue 02 Nov | Charlton Ath. | 1 - 2 | Derby County | League Division One |
| 1992/1993 | Sat 01 May | Charlton Ath. | 2 - 1 | Derby County | League Division One |
| | Sat 24 Oct | Derby County | 4 - 3 | Charlton Ath. | League Division One |
| 1991/1992 | Sat 28 Dec | Derby County | 1 - 2 | Charlton Ath. | Second Division |
| | Sun 01 Sep | Charlton Ath. | 0 - 2 | Derby County | Second Division |
| 1989/1990 | Sat 02 Dec | Derby County | 2 - 0 | Charlton Ath. | First Division |
| | Sat 19 Aug | Charlton Ath. | 0 - 0 | Derby County | First Division |
| 1988/1989 | Wed 10 May | Charlton Ath. | 3 - 0 | Derby County | First Division |
| | Sat 22 Oct | Derby County | 0 - 0 | Charlton Ath. | First Division |
| 1987/1988 | Sat 05 Mar | Derby County | 1 - 1 | Charlton Ath. | First Division |
| | Sat 17 Oct | Charlton Ath. | 0 - 1 | Derby County | First Division |
| 1983/1984 | Mon 02 Jan | Derby County | 0 - 1 | Charlton Ath. | Second Division |
| | Sat 24 Sep | Charlton Ath. | 1 - 0 | Derby County | Second Division |
| 1982/1983 | Wed 13 Apr | Derby County | 1 - 1 | Charlton Ath. | Second Division |
| | Sat 02 Oct | Charlton Ath. | 1 - 1 | Derby County | Second Division |
| 1981/1982 | Sat 13 Feb | Derby County | 1 - 1 | Charlton Ath. | Second Division |
| | Sat 03 Oct | Charlton Ath. | 2 - 1 | Derby County | Second Division |
| 1968/1969 | Sat 18 Jan | Charlton Ath. | 2 - 0 | Derby County | Second Division |
| | Sat 09 Nov | Derby County | 2 - 1 | Charlton Ath. | Second Division |
| 1967/1968 | Sat 16 Dec | Charlton Ath. | 1 - 2 | Derby County | Second Division |
| | Sat 19 Aug | Derby County | 3 - 2 | Charlton Ath. | Second Division |
| 1966/1967 | Sat 07 Jan | Charlton Ath. | 3 - 1 | Derby County | Second Division |
| | Sat 03 Sep | Derby County | 0 - 2 | Charlton Ath. | Second Division |
| 1965/1966 | Sat 07 May | Charlton Ath. | 2 - 2 | Derby County | Second Division |
| | Sat 11 Dec | Derby County | 2 - 0 | Charlton Ath. | Second Division |
| 1964/1965 | Sat 16 Jan | Charlton Ath. | 1 - 3 | Derby County | Second Division |
| | Sat 12 Sep | Derby County | 4 - 4 | Charlton Ath. | Second Division |
| 1963/1964 | Sat 01 Feb | Charlton Ath. | 2 - 0 | Derby County | Second Division |
| | Sat 21 Sep | Derby County | 1 - 1 | Charlton Ath. | Second Division |
| 1962/1963 | Sat 27 Apr | Charlton Ath. | 0 - 0 | Derby County | Second Division |
| | Sat 08 Dec | Derby County | 2 - 3 | Charlton Ath. | Second Division |
| 1961/1962 | Sat 17 Mar | Derby County | 0 - 1 | Charlton Ath. | Second Division |
| | Sat 28 Oct | Charlton Ath. | 4 - 0 | Derby County | Second Division |
| 1960/1961 | Sat 22 Apr | Derby County | 2 - 3 | Charlton Ath. | Second Division |
| | Sat 03 Dec | Charlton Ath. | 3 - 1 | Derby County | Second Division |
| 1959/1960 | Wed 24 Feb | Derby County | 1 - 2 | Charlton Ath. | Second Division |
| | Sat 26 Sep | Charlton Ath. | 6 - 1 | Derby County | Second Division |
| 1958/1959 | Sat 18 Apr | Charlton Ath. | 1 - 2 | Derby County | Second Division |
| | Sat 29 Nov | Derby County | 3 - 2 | Charlton Ath. | Second Division |
| 1957/1958 | Sat 22 Mar | Derby County | 1 - 3 | Charlton Ath. | Second Division |
| | Sat 09 Nov | Charlton Ath. | 2 - 2 | Derby County | Second Division |
| 1952/1953 | Sat 07 Feb | Derby County | 1 - 1 | Charlton Ath. | First Division |
| | Sat 20 Sep | Charlton Ath. | 3 - 1 | Derby County | First Division |
| 1951/1952 | Sat 22 Mar | Derby County | 1 - 3 | Charlton Ath. | First Division |
| | Sat 03 Nov | Charlton Ath. | 3 - 3 | Derby County | First Division |
| 1950/1951 | Sat 05 May | Charlton Ath. | 1 - 2 | Derby County | First Division |
| | Wed 06 Sep | Derby County | 5 - 0 | Charlton Ath. | First Division |
| 1949/1950 | Sat 29 Apr | Derby County | 1 - 2 | Charlton Ath. | First Division |
| | Sat 10 Dec | Charlton Ath. | 1 - 3 | Derby County | First Division |
| 1948/1949 | Sat 30 Apr | Charlton Ath. | 1 - 5 | Derby County | First Division |
| | Sat 04 Dec | Derby County | 5 - 1 | Charlton Ath. | First Division |
| 1947/1948 | Sat 10 Apr | Derby County | 0 - 3 | Charlton Ath. | First Division |
| | Sat 22 Nov | Charlton Ath. | 1 - 5 | Derby County | First Division |
| 1946/1947 | Sat 12 Apr | Derby County | 1 - 0 | Charlton Ath. | First Division |
| | Sat 07 Dec | Charlton Ath. | 2 - 4 | Derby County | First Division |
| 1938/1939 | Sat 18 Mar | Derby County | 3 - 1 | Charlton Ath. | First Division |
| | Sat 12 Nov | Charlton Ath. | 1 - 0 | Derby County | First Division |
| 1937/1938 | Sat 19 Mar | Derby County | 3 - 2 | Charlton Ath. | First Division |
| | Sat 06 Nov | Charlton Ath. | 1 - 2 | Derby County | First Division |
| 1936/1937 | Sat 20 Mar | Derby County | 5 - 0 | Charlton Ath. | First Division |
| | Sat 14 Nov | Charlton Ath. | 2 - 0 | Derby County | First Division |