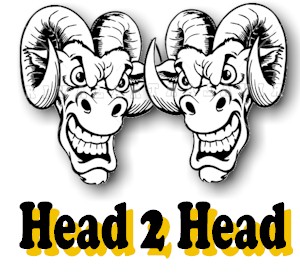 Surprising though it may be to some Bournemouth AFC were formed in 1899, yet the Rams have only played them on six occasions.
It took 87 years before Derby County first played Bournemouth. The first games being on SaturdayAugust 25th 1984, which was a 1-0 defeat for the Rams. Bournemouth did the double over Derby that first season in the third division with a 3-2 win.
Derby came good the following season with a 3-0 win followed by a 1-1 draw. It was 27 years later that games between the two clubs were played again, this time in the championship season 2013-14. Derby County achieved the double over Bournemouth last season by a single goal in both games.
Full history of games between Derby County and Bournemouth:
At Derby County (3)
At Bournemouth (3)
Results
Total
%
Results
Total
%
Derby County
2
66.67
Bournemouth
1
33.33
Bournemouth
1
33.33
Derby County
1
33.33
Draws
0
0.00
Draws
1
33.33
Goals
Total
Av.pg
Goals
Total
Av.pg
Derby County
6
2.00
Bournemouth
2
0.67
Bournemouth
3
1.00
Derby County
2
0.67
On Neutral Ground (0)
Overall (6 matches)
Results
Total
%
Results
Total
%
Derby County
0
0.00
Derby County
3
50.00
Bournemouth
0
0.00
Bournemouth
2
33.33
Draws
0
0.00
Draws
1
16.67
Goals
Total
Av.pg
Goals
Total
Av.pg
Derby County
0
0.00
Derby County
8
1.33
Bournemouth
0
0.00
Bournemouth
5
0.83
Records
Highest Aggregate
5
Derby County
2 - 3
Bournemouth
1984/1985
Highest Derby County score:
3
Derby County
3 - 0
Bournemouth
1985/1986
Highest Bournemouth score:
3
Derby County
2 - 3
Bournemouth
1984/1985
| Season | Date | Home | Score | Away | Competition |
| --- | --- | --- | --- | --- | --- |
| 2013/2014 | Sat 22 Feb | Derby County | 1 - 0 | Bournemouth | Championship |
| | Sat 23 Nov | Bournemouth | 0 - 1 | Derby County | Championship |
| 1985/1986 | Sat 18 Jan | Bournemouth | 1 - 1 | Derby County | Third Division |
| | Sat 17 Aug | Derby County | 3 - 0 | Bournemouth | Third Division |
| 1984/1985 | Wed 30 Jan | Derby County | 2 - 3 | Bournemouth | Third Division |
| | Sat 25 Aug | Bournemouth | 1 - 0 | Derby County | Third Division |
| | | | | | |