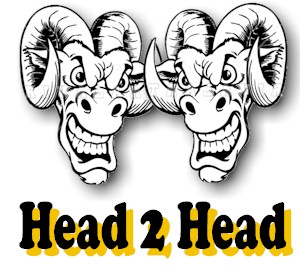 Blackburn Rovers, one of the founder members of the football league alongside Derby County, way back in 1888.
The very first meeting of the two came Saturday 24th November 1888. The very first football league game for Derby County football club and Blackburn Rovers of course. The result was a disappointing 2-0 loss on the Racecourse Ground Derby, followed up by a 3-0 defeat on Monday 24th April 1889 at Ewood Park.
Derby County have a poor record against Blackburn, winning 33 games to Blackburn's 48, with 33 games drawn. In fact the Rams have only won 11 games at Ewood Park during the whole 125 years of competition. The trend is reversed when Derby County play at home however, with the Rams winning 22 games to Blackburn's 15 with a surprising 20 games drawn.
There are some very high scoring games between Derby County and Blackburn Rovers. The highest aggregate score line being Derby County 8 Blackburn Rovers 5 in the 1890-91 season on Saturday 6th September, John Goodhall scoring four that thrilled a crowd of just 4,500. Sadly Blackburn gained revenge just four months later thumping the Rams 8-0 on the 3rd January 1891.
Full stats of all 113 matches:
At Blackburn R. (56)
At Derby County (57)
Results
Total
%
Results
Total
%
Blackburn R.
33
58.93
Derby County
22
38.60
Derby County
11
19.64
Blackburn R.
15
26.32
Draws
12
21.43
Draws
20
35.09
Goals
Total
Av.pg
Goals
Total
Av.pg
Blackburn R.
120
2.14
Derby County
110
1.93
Derby County
66
1.18
Blackburn R.
80
1.40
On Neutral Ground (0)
Overall (113 matches)
Results
Total
%
Results
Total
%
Blackburn R.
0
0.00
Blackburn R.
48
42.48
Derby County
0
0.00
Derby County
33
29.20
Draws
0
0.00
Draws
32
28.32
Goals
Total
Av.pg
Goals
Total
Av.pg
Blackburn R.
0
0.00
Blackburn R.
200
1.77
Derby County
0
0.00
Derby County
176
1.56
Records
Highest Aggregate
13
Derby County
8 - 5
Blackburn R.
1890/1891
Highest Blackburn R. score:
8
Blackburn R.
8 - 0
Derby County
1890/1891
Highest Derby County score:
8
Derby County
8 - 5
Blackburn R.
1890/1891
Season
Date
Home
Score
Away
Competition
2013/2014
Sat 25 Jan
Blackburn R.
1 - 1
Derby County
Championship
Sun 04 Aug
Derby County
1 - 1
Blackburn R.
Championship
2012/2013
Sat 13 Apr
Blackburn R.
2 - 0
Derby County
Championship
Sat 26 Jan
Derby County
0 - 3
Blackburn R.
F.A. Cup
Sat 20 Oct
Derby County
1 - 1
Blackburn R.
Championship
2007/2008
Sat 03 May
Blackburn R.
3 - 1
Derby County
Premier League
Sun 30 Dec
Derby County
1 - 2
Blackburn R.
Premier League
2001/2002
Sat 29 Dec
Blackburn R.
0 - 1
Derby County
Premiership
Sat 18 Aug
Derby County
2 - 1
Blackburn R.
Premiership
2000/2001
Wed 07 Feb
Derby County
2 - 5
Blackburn R.
F.A. Cup
Sat 27 Jan
Blackburn R.
0 - 0
Derby County
F.A. Cup
1998/1999
Sat 16 Jan
Derby County
1 - 0
Blackburn R.
Premiership
Sat 15 Aug
Blackburn R.
0 - 0
Derby County
Premiership
1997/1998
Sun 11 Jan
Derby County
3 - 1
Blackburn R.
Premiership
Sat 09 Aug
Blackburn R.
1 - 0
Derby County
Premiership
1996/1997
Sat 28 Dec
Derby County
0 - 0
Blackburn R.
Premiership
Mon 09 Sep
Blackburn R.
1 - 2
Derby County
Premiership
1991/1992
Wed 13 May
Derby County
2 - 1
Blackburn R.
Football League Play-Offs (Lvl 2)
Blackburn Rovers won 6-3 on aggregate
Sun 10 May
Blackburn R.
4 - 2
Derby County
Football League Play-Offs (Lvl 2)
Tue 11 Feb
Blackburn R.
2 - 0
Derby County
Second Division
Wed 04 Sep
Derby County
0 - 2
Blackburn R.
Second Division
1986/1987
Fri 17 Apr
Blackburn R.
3 - 1
Derby County
Second Division
Wed 18 Mar
Derby County
3 - 2
Blackburn R.
Second Division
1983/1984
Sat 11 Feb
Derby County
1 - 1
Blackburn R.
Second Division
Sat 10 Sep
Blackburn R.
5 - 1
Derby County
Second Division
1982/1983
Mon 02 May
Blackburn R.
2 - 0
Derby County
Second Division
Sat 25 Sep
Derby County
1 - 2
Blackburn R.
Second Division
1981/1982
Sat 06 Mar
Blackburn R.
4 - 1
Derby County
Second Division
Sat 17 Oct
Derby County
1 - 1
Blackburn R.
Second Division
1980/1981
Sat 14 Feb
Blackburn R.
1 - 0
Derby County
Second Division
Sat 06 Sep
Derby County
2 - 2
Blackburn R.
Second Division
1968/1969
Sat 01 Mar
Derby County
4 - 2
Blackburn R.
Second Division
Sat 10 Aug
Blackburn R.
1 - 1
Derby County
Second Division
1967/1968
Sat 30 Dec
Derby County
2 - 2
Blackburn R.
Second Division
Tue 26 Dec
Blackburn R.
3 - 0
Derby County
Second Division
1966/1967
Sat 17 Dec
Blackburn R.
0 - 0
Derby County
Second Division
Sat 20 Aug
Derby County
2 - 3
Blackburn R.
Second Division
1957/1958
Sat 01 Feb
Derby County
0 - 3
Blackburn R.
Second Division
Sat 21 Sep
Blackburn R.
3 - 1
Derby County
Second Division
1954/1955
Mon 13 Sep
Blackburn R.
5 - 2
Derby County
Second Division
Wed 08 Sep
Derby County
0 - 3
Blackburn R.
Second Division
1953/1954
Fri 01 Jan
Blackburn R.
0 - 3
Derby County
Second Division
Wed 09 Sep
Derby County
2 - 2
Blackburn R.
Second Division
1947/1948
Sat 27 Dec
Derby County
5 - 0
Blackburn R.
First Division
Thu 25 Dec
Blackburn R.
3 - 4
Derby County
First Division
1946/1947
Sat 15 Feb
Blackburn R.
1 - 1
Derby County
First Division
Sat 12 Oct
Derby County
2 - 1
Blackburn R.
First Division
1935/1936
Sat 22 Feb
Blackburn R.
0 - 0
Derby County
First Division
Sat 19 Oct
Derby County
1 - 0
Blackburn R.
First Division
1934/1935
Sat 27 Apr
Derby County
1 - 1
Blackburn R.
First Division
Sat 15 Dec
Blackburn R.
2 - 5
Derby County
First Division
1933/1934
Sat 06 Jan
Blackburn R.
2 - 1
Derby County
First Division
Sat 02 Sep
Derby County
1 - 1
Blackburn R.
First Division
1932/1933
Mon 19 Sep
Blackburn R.
3 - 3
Derby County
First Division
Wed 31 Aug
Derby County
2 - 1
Blackburn R.
First Division
1931/1932
Wed 27 Jan
Derby County
1 - 1
Blackburn R.
First Division
Sat 12 Sep
Blackburn R.
3 - 2
Derby County
First Division
1930/1931
Fri 26 Dec
Derby County
1 - 1
Blackburn R.
First Division
Thu 25 Dec
Blackburn R.
1 - 0
Derby County
First Division
1929/1930
Sat 08 Mar
Blackburn R.
0 - 3
Derby County
First Division
Sat 02 Nov
Derby County
4 - 3
Blackburn R.
First Division
1928/1929
Sat 29 Dec
Blackburn R.
3 - 1
Derby County
First Division
Sat 25 Aug
Derby County
5 - 1
Blackburn R.
First Division
1927/1928
Thu 26 Apr
Blackburn R.
3 - 2
Derby County
First Division
Sat 10 Dec
Derby County
6 - 0
Blackburn R.
First Division
1926/1927
Sat 09 Apr
Blackburn R.
4 - 4
Derby County
First Division
Sat 20 Nov
Derby County
4 - 5
Blackburn R.
First Division
1920/1921
Sat 11 Dec
Derby County
0 - 1
Blackburn R.
First Division
Sat 04 Dec
Blackburn R.
2 - 0
Derby County
First Division
1919/1920
Sat 13 Dec
Derby County
0 - 0
Blackburn R.
First Division
Sat 06 Dec
Blackburn R.
2 - 0
Derby County
First Division
1913/1914
Sat 07 Feb
Derby County
2 - 3
Blackburn R.
First Division
Sat 04 Oct
Blackburn R.
3 - 1
Derby County
First Division
1912/1913
Sat 28 Dec
Blackburn R.
0 - 1
Derby County
First Division
Sat 07 Sep
Derby County
1 - 1
Blackburn R.
First Division
1906/1907
Sat 02 Mar
Derby County
2 - 3
Blackburn R.
First Division
Sat 27 Oct
Blackburn R.
5 - 1
Derby County
First Division
1905/1906
Sat 24 Mar
Derby County
1 - 2
Blackburn R.
First Division
Sat 18 Nov
Blackburn R.
3 - 0
Derby County
First Division
1904/1905
Mon 02 Jan
Blackburn R.
3 - 1
Derby County
First Division
Sat 22 Oct
Derby County
1 - 1
Blackburn R.
First Division
1903/1904
Mon 11 Apr
Derby County
3 - 0
Blackburn R.
First Division
Sat 07 Nov
Blackburn R.
2 - 1
Derby County
First Division
1902/1903
Sat 14 Feb
Derby County
1 - 0
Blackburn R.
First Division
Sat 18 Oct
Blackburn R.
2 - 4
Derby County
First Division
1901/1902
Sat 19 Apr
Blackburn R.
3 - 1
Derby County
First Division
Sat 16 Nov
Derby County
1 - 1
Blackburn R.
First Division
1900/1901
Sat 23 Mar
Blackburn R.
1 - 0
Derby County
First Division
Sat 17 Nov
Derby County
4 - 0
Blackburn R.
First Division
1899/1900
Sat 14 Apr
Blackburn R.
2 - 0
Derby County
First Division
Sat 09 Dec
Derby County
0 - 2
Blackburn R.
First Division
1898/1899
Sat 14 Jan
Blackburn R.
3 - 0
Derby County
First Division
Sat 17 Sep
Derby County
0 - 0
Blackburn R.
First Division
1897/1898
Sat 27 Nov
Blackburn R.
1 - 1
Derby County
First Division
Sat 04 Sep
Derby County
3 - 1
Blackburn R.
First Division
1896/1897
Sat 16 Jan
Blackburn R.
5 - 2
Derby County
First Division
Sat 21 Nov
Derby County
6 - 0
Blackburn R.
First Division
1895/1896
Sat 11 Apr
Derby County
0 - 0
Blackburn R.
First Division
Sat 22 Feb
Blackburn R.
0 - 2
Derby County
First Division
1894/1895
Fri 12 Apr
Blackburn R.
0 - 0
Derby County
First Division
Sat 06 Apr
Derby County
0 - 0
Blackburn R.
First Division
1893/1894
Sat 31 Mar
Derby County
5 - 2
Blackburn R.
First Division
Fri 23 Mar
Blackburn R.
0 - 2
Derby County
First Division
1892/1893
Sat 07 Jan
Blackburn R.
2 - 2
Derby County
First Division
Sat 22 Oct
Derby County
3 - 0
Blackburn R.
First Division
1891/1892
Sat 26 Mar
Derby County
1 - 1
Blackburn R.
Football League
Sat 02 Jan
Blackburn R.
0 - 2
Derby County
Football League
1890/1891
Sat 03 Jan
Blackburn R.
8 - 0
Derby County
Football League
Sat 06 Sep
Derby County
8 - 5
Blackburn R.
Football League
1889/1890
Sat 08 Feb
Derby County
4 - 0
Blackburn R.
Football League
Sat 21 Sep
Blackburn R.
4 - 2
Derby County
Football League
1888/1889
Mon 15 Apr
Blackburn R.
3 - 0
Derby County
Football League
Sat 24 Nov
Derby County
0 - 2
Blackburn R.
Football League