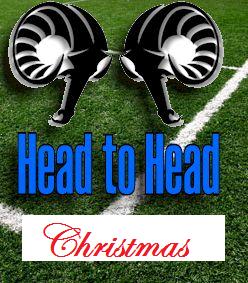 The Rams look forward to their Boxing day clash with Burnley and we take a look at the history of matches between the two teams.
Derby County have a very good record against Burnley and overall have 42 of the 98 games played, Burnley wining 36 with 20 games drawn.
As the game this time is at Turf Moor, the odds may be in favour of Burnley. Games played at Turf Moor have produced 24 wins for Burnley, with just 14 for the Rams and 11 games ending as a draw.
Games between the two sides started in 1888 on the 19th January of that year, with the Rams losing by the single goal. Derby gained their revenge a couple of months later on the 2nd March again the score being 1-0.
Below is the full record of games between Derby County and Burnley, should you wish to take a look at records of other games between the Rams and their opponents please go to our 'Match Day' section of the main website, then click on the 'head to head' section...
At Burnley (49)
At Derby County (49)
Results
Total
%
Results
Total
%
Burnley
24
48.98
Derby County
28
57.14
Derby County
14
28.57
Burnley
12
24.49
Draws
11
22.45
Draws
9
18.37
Goals
Total
Av.pg
Goals
Total
Av.pg
Burnley
87
1.78
Derby County
96
1.96
Derby County
63
1.29
Burnley
54
1.10
On Neutral Ground (0)
Overall (98 matches)
Results
Total
%
Results
Total
%
Burnley
0
0.00
Burnley
36
36.73
Derby County
0
0.00
Derby County
42
42.86
Draws
0
0.00
Draws
20
20.41
Goals
Total
Av.pg
Goals
Total
Av.pg
Burnley
0
0.00
Burnley
141
1.44
Derby County
0
0.00
Derby County
159
1.62
Records
Highest Aggregate
8
Burnley
6 - 2
Derby County
1929/1930
Highest Burnley score:
6
Burnley
6 - 1
Derby County
1890/1891
Highest Derby County score:
5
Burnley
2 - 5
Derby County
1974/1975
| Season | Date | Home | Score | Away | Competition |
| --- | --- | --- | --- | --- | --- |
| 2012/2013 | Sat 22 Sep | Derby County | 1 - 2 | Burnley | Championship |
| 2011/2012 | Sat 21 Jan | Burnley | 0 - 0 | Derby County | Championship |
| | Sat 27 Aug | Derby County | 1 - 2 | Burnley | Championship |
| 2010/2011 | Sat 23 Apr | Derby County | 2 - 4 | Burnley | Championship |
| | Sat 27 Nov | Burnley | 2 - 1 | Derby County | Championship |
| 2008/2009 | Sat 04 Apr | Derby County | 1 - 1 | Burnley | Championship |
| | Sat 29 Nov | Burnley | 3 - 0 | Derby County | Championship |
| 2006/2007 | Tue 30 Jan | Derby County | 1 - 0 | Burnley | Championship |
| | Sat 23 Dec | Burnley | 0 - 0 | Derby County | Championship |
| 2005/2006 | Sat 11 Mar | Derby County | 3 - 0 | Burnley | Championship |
| | Sat 07 Jan | Derby County | 2 - 1 | Burnley | F.A. Cup |
| | Sat 27 Aug | Burnley | 2 - 2 | Derby County | Championship |
| 2004/2005 | Wed 23 Feb | Derby County | 1 - 1 | Burnley | Championship |
| | Fri 22 Oct | Burnley | 0 - 2 | Derby County | Championship |
| 2003/2004 | Sat 24 Apr | Burnley | 1 - 0 | Derby County | League Division One |
| | Sat 15 Nov | Derby County | 2 - 0 | Burnley | League Division One |
| 2002/2003 | Sat 22 Feb | Burnley | 2 - 0 | Derby County | League Division One |
| | Sat 07 Sep | Derby County | 1 - 2 | Burnley | League Division One |
| 1999/2000 | Sat 11 Dec | Derby County | 0 - 1 | Burnley | F.A. Cup |
| 1994/1995 | Sat 15 Apr | Burnley | 3 - 1 | Derby County | League Division One |
| | Wed 15 Mar | Derby County | 4 - 0 | Burnley | League Division One |
| 1991/1992 | Sat 25 Jan | Derby County | 2 - 0 | Burnley | F.A. Cup |
| | Sat 04 Jan | Burnley | 2 - 2 | Derby County | F.A. Cup |
| 1984/1985 | Tue 23 Apr | Burnley | 0 - 1 | Derby County | Third Division |
| | Sat 15 Sep | Derby County | 2 - 2 | Burnley | Third Division |
| 1982/1983 | Sat 30 Apr | Derby County | 2 - 0 | Burnley | Second Division |
| | Sat 27 Nov | Burnley | 1 - 1 | Derby County | Second Division |
| 1975/1976 | Sat 17 Jan | Burnley | 1 - 2 | Derby County | First Division |
| | Sat 06 Sep | Derby County | 3 - 0 | Burnley | First Division |
| 1974/1975 | Mon 31 Mar | Burnley | 2 - 5 | Derby County | First Division |
| | Sat 21 Sep | Derby County | 3 - 2 | Burnley | First Division |
| 1973/1974 | Sat 12 Jan | Derby County | 5 - 1 | Burnley | First Division |
| | Sat 15 Sep | Burnley | 1 - 1 | Derby County | First Division |
| 1970/1971 | Sat 24 Apr | Burnley | 1 - 2 | Derby County | First Division |
| | Sat 19 Sep | Derby County | 1 - 0 | Burnley | First Division |
| 1969/1970 | Sat 14 Feb | Burnley | 1 - 1 | Derby County | First Division |
| | Sat 09 Aug | Derby County | 0 - 0 | Burnley | First Division |
| 1968/1969 | Sat 04 Jan | Burnley | 3 - 1 | Derby County | F.A. Cup |
| 1952/1953 | Sat 21 Feb | Derby County | 1 - 3 | Burnley | First Division |
| | Sat 04 Oct | Burnley | 1 - 2 | Derby County | First Division |
| 1951/1952 | Sat 15 Mar | Burnley | 0 - 1 | Derby County | First Division |
| | Sat 27 Oct | Derby County | 1 - 0 | Burnley | First Division |
| 1950/1951 | Sat 07 Apr | Burnley | 1 - 0 | Derby County | First Division |
| | Sat 18 Nov | Derby County | 1 - 1 | Burnley | First Division |
| 1949/1950 | Sat 14 Jan | Derby County | 1 - 1 | Burnley | First Division |
| | Sat 10 Sep | Burnley | 0 - 1 | Derby County | First Division |
| 1948/1949 | Mon 18 Apr | Derby County | 2 - 0 | Burnley | First Division |
| | Fri 15 Apr | Burnley | 3 - 1 | Derby County | First Division |
| 1947/1948 | Wed 03 Sep | Derby County | 1 - 1 | Burnley | First Division |
| | Tue 26 Aug | Burnley | 0 - 2 | Derby County | First Division |
| 1931/1932 | Sat 09 Jan | Burnley | 0 - 4 | Derby County | F.A. Cup |
| 1929/1930 | Sat 03 May | Burnley | 6 - 2 | Derby County | First Division |
| | Wed 25 Sep | Derby County | 1 - 3 | Burnley | First Division |
| 1928/1929 | Sat 09 Mar | Burnley | 2 - 2 | Derby County | First Division |
| | Sat 27 Oct | Derby County | 4 - 0 | Burnley | First Division |
| 1927/1928 | Sat 11 Feb | Derby County | 3 - 4 | Burnley | First Division |
| | Sat 01 Oct | Burnley | 4 - 2 | Derby County | First Division |
| 1926/1927 | Sat 12 Feb | Derby County | 4 - 1 | Burnley | First Division |
| | Sat 25 Sep | Burnley | 1 - 0 | Derby County | First Division |
| 1920/1921 | Wed 23 Feb | Derby County | 0 - 0 | Burnley | First Division |
| | Sat 12 Feb | Burnley | 2 - 1 | Derby County | First Division |
| 1919/1920 | Sat 28 Feb | Burnley | 2 - 0 | Derby County | First Division |
| | Sat 21 Feb | Derby County | 0 - 2 | Burnley | First Division |
| 1913/1914 | Sat 11 Apr | Burnley | 5 - 1 | Derby County | First Division |
| | Sat 31 Jan | Burnley | 3 - 2 | Derby County | F.A. Cup |
| | Sat 06 Dec | Derby County | 3 - 1 | Burnley | First Division |
| 1911/1912 | Sat 16 Mar | Burnley | 0 - 0 | Derby County | Second Division |
| | Wed 06 Dec | Derby County | 2 - 0 | Burnley | Second Division |
| 1910/1911 | Sat 25 Mar | Derby County | 3 - 0 | Burnley | Second Division |
| | Sat 19 Nov | Burnley | 2 - 1 | Derby County | Second Division |
| 1909/1910 | Sat 08 Jan | Burnley | 1 - 2 | Derby County | Second Division |
| | Sat 04 Sep | Derby County | 5 - 2 | Burnley | Second Division |
| 1908/1909 | Sat 26 Dec | Derby County | 1 - 0 | Burnley | Second Division |
| | Mon 07 Sep | Burnley | 2 - 0 | Derby County | Second Division |
| 1907/1908 | Sat 25 Jan | Derby County | 1 - 0 | Burnley | Second Division |
| | Sat 28 Sep | Burnley | 2 - 2 | Derby County | Second Division |
| 1899/1900 | Sat 17 Feb | Burnley | 1 - 2 | Derby County | First Division |
| | Sat 14 Oct | Derby County | 4 - 1 | Burnley | First Division |
| 1898/1899 | Sat 11 Mar | Burnley | 2 - 1 | Derby County | First Division |
| | Sat 12 Nov | Derby County | 2 - 1 | Burnley | First Division |
| 1896/1897 | Mon 05 Apr | Burnley | 2 - 3 | Derby County | First Division |
| | Sat 14 Nov | Derby County | 3 - 2 | Burnley | First Division |
| 1895/1896 | Sat 04 Apr | Burnley | 2 - 2 | Derby County | First Division |
| | Sat 09 Nov | Derby County | 5 - 1 | Burnley | First Division |
| 1894/1895 | Wed 12 Dec | Derby County | 0 - 2 | Burnley | First Division |
| | Sat 29 Sep | Burnley | 2 - 0 | Derby County | First Division |
| 1893/1894 | Mon 02 Apr | Derby County | 3 - 3 | Burnley | First Division |
| | Sat 10 Mar | Burnley | 3 - 1 | Derby County | First Division |
| 1892/1893 | Sat 12 Nov | Derby County | 1 - 0 | Burnley | First Division |
| | Sat 08 Oct | Burnley | 2 - 1 | Derby County | First Division |
| 1891/1892 | Sat 16 Apr | Burnley | 2 - 4 | Derby County | Football League |
| | Sat 19 Dec | Derby County | 0 - 1 | Burnley | Football League |
| 1890/1891 | Sat 24 Jan | Derby County | 2 - 4 | Burnley | Football League |
| | Sat 15 Nov | Burnley | 6 - 1 | Derby County | Football League |
| 1889/1890 | Sat 08 Mar | Burnley | 2 - 0 | Derby County | Football League |
| | Sat 04 Jan | Derby County | 4 - 1 | Burnley | Football League |
| 1888/1889 | Sat 02 Mar | Derby County | 1 - 0 | Burnley | Football League |
| | Sat 19 Jan | Burnley | 1 - 0 | Derby County | Football League |
| | | | | | |