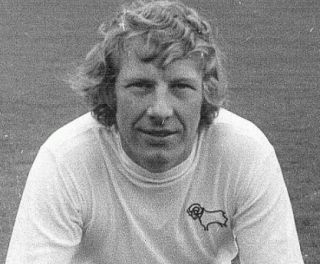 Derby County mad send a Happy Birthday wish to one of the all time legends of Derby County, Alan Hinton.
The likeable winger played for the Rams for nine years from 1967 to 1976 and was considered one of the best crosses of a ball to ever grace the football league. Not only did his skill with the ball single him out but he is well known by Rams fans for being the first Derby County player and possibly the second in the country behind Alan Ball to wear white boots. Obviously these were sometimes disguised by the two or three inches of mud that usually covered the Baseball Ground pitch during the winter.
Alan was a winner with the Rams and played a large part in the 1968-69 second division Championship winning side and was also one of Derby's best weapons in the two first division (now Premiership) winning seasons in 1971-72 and 1974-75 seasons.
Affectionately known as Gladys by the baseball ground faithful he later went on to play for several North American football teams, taking the beautiful game to them during the Pele Era in the States.
It is a shame our younger readers never had the chance to see Alan in action and he will remain in the memories of those fans of a certain age and who remember the good old days at the Baseball Ground.
HAPPY BIRTHDAY ALAN