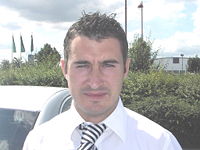 Andy Griffin played just 15 times for the Rams but hoping to start a new career with Stoke
Derby County have announced that 28 year old defender Andy Griffin has agreed a four year deal with Stoke City.
Griffin will return to the potters after only playing 15 times for the Rams since a free move from Portsmouth.
Derby expect to seal the deal after a medical on Griffin is completed later today. The Rams will pick up £300,000 for the transfer...