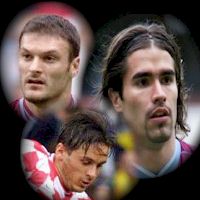 Alpay, Angel and Balaban.£20million transfer investigation moves to America
The accusations of transfer irregularities are set to take a new twist next week. The FA have sanctioned talks with an un-named South American agent who is said to be able to prove or disprove allegations of wrong doings by John Gregory whilst in charge at Aston Villa.
The FA, who are paying for the meeting, must think this new source of information is valid after seeming to come up against a brick wall in earlier investigations concerning the transfers to Villa of Juan Pablo Angel, Alpay and Bosko Balaban
The head of the FA's Football compliance unit Graham Bean will fly to America for secret talks with the South American agent.
Villa Chairman Doug Ellis, continues to call for the investigation to clear the name of Aston Villa Football club, as he feels that any misappropriate action taken in

Gregory
the transfer of the trio mentioned above had nothing to do with the club. This must be interpreted as meaning he thinks Gregory is guilty if any wrong doings are found.