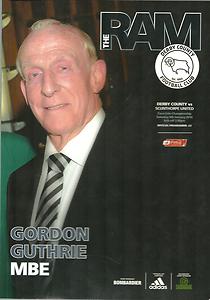 Over sixty years of loyal service to Derby County Football club has been recognised by the club as Gordon Guthrie gets a stand at Pride Park named after him.
The 82 year-old will have the South West corner stand renamed 'The Gordon Guthrie stand'.
Honoured for his dedication to the club and work in football in general with an MBE, Gordon said this is a "huge honour" and is very proud.
Gordon worked under at least a dozen different manager during his career being firstly the Physio, then trainer and finishing his career at the club recently after ill health as kit manager.
The stand will be dedicated to Mr Guthrie on Saturday before the televised game between the Rams and Leicester City