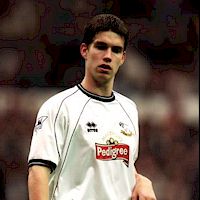 Riggott on 3 month loan
Derby County FC have confirmed that Chris Riggott and Malcolm Christie have left the club to join Middlesbrough. Malcolm Christie's transfer is with immediate effect but Chris Riggott will join Boro on an initial 3-month loan. After this initial period Riggott will then have a permanent move in North at the end of the season.
The transfer of Riggott has been guaranteed by Middlesbrough and the combined deal is said to be worth up to £5million to the Rams.
Danny Higginbotham, the Rams current player of the year has also moved from Derby County. A £1.5 million deal has been arranged with Southampton. Danny originally cost Derby County £2 million from Manchester United and the Rams
are disappointed that this promising defender has not realised his original transfer price of £2million.