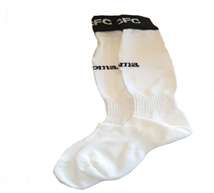 The new Derby County socks
Derby County are changing their socks due to a supply issue with their kit manufacturers Joma.
The Ram seem to have had trouble with their socks more than once this season already. The new Kit showed that the socks were due to be hooped but when the new season started the Rams played in white socks with a black band down the back which had DCFC written on.
The newly arrived socks now appear to be a plain white sock with black bands only around the top.

Rams supposed socks for 2006-07 season
Supporters who had bought the original socks can now return them to the Derby County Club shop and have them replaced with the new pair (old socks presumably washed!). Derby County have apologised for any inconvenience this may have caused.