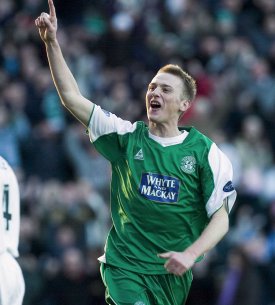 Derek Riordan interesting the Rams as a forward option

Derby County are said to be considering a bid for Scottish Forward Derek Riordan. The twenty seven year old forward currently plays for Hibs in the Scottish Premier League and has a year left on his present contract.

Riordan has scored 16 goals this season from a wide position and this has sparked interest from Nigel Clough, even though at present the Rams have a glut of strikers at the club.

It is thought that Hibs are now looking at trying to cash in on Riordan rather than keep him at Easter Road for another season, or extend his contract further.

There has interest in the goal scorer from English clubs before. Burnley had a bid of £400,000 rejected when Derek was then playing for Celtic in 2008, a club he Joined in 2006 for £170,000 in 2006. Things however didn't work out for Riordan at Celtic and he eventually left for Hibs for an undisclosed fee in 2008.

On a personal level Riordan does appear to be a fiery Scot. He was given a two year ban from all pubs and clubs in the Edinburgh area after an incident with bouncers at the 'Berlin' night club. This was increased to five years for a second incident in November 2008, which saw him allegedly hit someone in a nightclub. A year after this incident he was again arrested for a breach of the peace, which resulted in a fine, Hibs also disciplined the player...

Date of birth

Sunday, 16th January 1983

Height

5.11

Place of birth

Edinburgh

Weight

10.4

Nationality

&n bsp;

Position

Forward

Comments

Squad No.

10