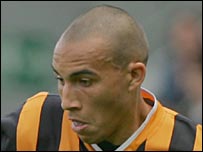 Craig Fagan out to pick a pocket or two for the Rams
Derby County have completed the signing of Hull striker Craig Fagan for a £750,000 fee. His contract is for three and a half years and he will be unveiled at a press conference today at Moor Farm.
Fagan is a forward player with plenty of pace, which will give Billy Davies more attacking options and hopefully more goals for the Rams. The striker is also a physical player able to stand up to the rigors of Championship challenges and is around 5 ft 11 inches in height.
Fagan signed last night and is expected to go straight into the squad for Saturday's home game with Sheffield Wednesday.