Gregory say's more than is good for him to official
John Gregory, Derby County's expected new manager could start his reign at Pride Park from the stands.
Gregory faces a Football association misconduct charge. The meeting to determine the facts on the case will be at a yet unknown location on February 5th.
The incident concerns Aston Villa's game on Boxing Day against Liverpool. Gregory had an angry confrontation with assistant referee Ray Gould and was consequently sent from the dugout by match referee Andy D'Urso.
The hearing was due to take place on Thursday 24th January but as people will no doubt be aware this is the day Gregory resigned from Aston Villa. Gregory asked for an adjournment and was granted the delay due to the circumstances.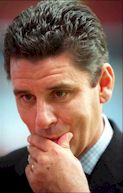 Gregory thinks the offer over
Rams fans are still left to wonder if ex Rams player Gregory will join the club.
Negotiations between the club, Gregory and his agent are said to be taking place today and a decision could be made after tonights match against Charlton Athletic.