Derby County Mad
EXCLUSIVE
---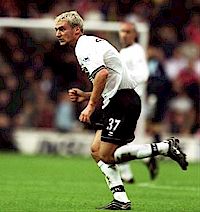 Send YOUR question to Pierre
In next months "
Ducrocq's Diary"
we are giving you the opportunity to put your questions to Pierre.
If you have a question about Pierre or his time at Derby County please write to our editor at.
hector@derbycounty-mad.co.uk
We promise your question will be read by Pierre and answered in the next article of "Ducrocq's Diary".
Pierre has also invited all his friends to join his football prediction competition. There are great prizes to be won and it's your chance to show off your predicting skills to your friends.
Just predict what the result will be of the Premiership games played that week…
To join Pierre's competition just click here and sign-up