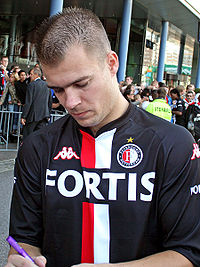 Danny Buijs wants to come to Derby

Derby County are rumoured to be interested in signing Ado Den Hagg midfielder Danny Buijs. The 27 year-old is a former Feyenoord player but moved to Den Hagg on a permanent basis last January following a short loan spell at the club.

The Rams had asked if Buijs was available on a loan basis but the Dutch club were not having any of that and insisted that Derby prepared a firm bid for his signature if they have any hopes of taking him to Derby. No fee was mentioned but his transfer from Feyenoord less than a year ago was for a nominal fee and the Rams will be hoping that a low bid will secure the move.

Buijs recently saw the Rams in their draw at St James' Park against Newcastle. The visit was pre-arranged and not thought to be in connection with any move. Danny was said to have been suitably impressed with the game, atmosphere and Derby County...