Derby County Mad's review of Gerald Mortimer and Breedon Books new publication "DERBY COUNTY THE COMPLETE RECORD"
It was a pleasant surprise a few weeks ago to get an invitation to review a brand new book written by Gerald Mortimer and published by Derby's own Breedon Books.
The book in question is "Derby County, The complete record" and is quite simply the most comprehensive book on Derby County that I have ever read .
Many of you will have bought and read the Who's who of Derby County " books , again written By Gerald Mortimer but the new complete record eclipses even these fine publications.
Over 490 pages of facts, pictures and every game and league table that Derby County have ever been involved in from 1884 to 2006.
It is a book that will become a firm favourite with any football fan who reads it. For the anorak and stato's out there it will become their new bible, with every conceivable fact and piece of trivia given for seasons long past and even your Granddad can't remember.
Take a look at the pages for the 1895-96 league table and the match by match statistics. You will note how the Rams gave old foe Nottingham Forest a serious mauling both home and away, with Steve Bloomer scoring a hatrick in both the home and away games. The Rams winning 5-2 away and 4-0 at home.
This book is a combination of the Who's Who of Derby County, allied with a comprehensive history of the Rams.

Gerald Mortimer
Gerald Mortimer gives you his top 100 Derby County players of all time, which may not be everyone's choice but having compiled my own 100 choices a while ago and had it printed in the local paper, I can confirm that people love to disagree with personal choices and no one would escape criticism of one choice or another.
An altogether outstanding publication which I know you are going to love and like me be unable to leave it closed for long.
An ideal present for any Rams fan and I can see many an edition pocking out of Christmas stockings from Derby to Darwin.

If you wish to win a copy of this book keep checking the Derby County Mad website all of this week for a chance to win a free copy.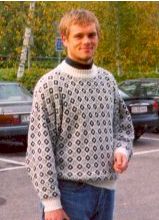 Morten Bisgaard
You can even buy a copy of this publication next week at the public book signing that will see players from the Rams last 60 years on display and eager to sign your copy of the book.
Among the stars of yester-year will be Reg Harrison and Jimmy Bullions, the only two surviving members of the triumphal 1946 FA Cup winning side, along with John McGovern and Rams favourite Ted McMinn. Current first team Rams players Marc Edworthy and Morten Bisgaard will also be on hand to autograph your cpy of the book..
The venue is the Derby County shop from 5-30 this Thursday 21st September.