Derby County (2) 2-4 (1) Queens Park Rangers


1-0 Paul Dickov (9)
2-0 Robbie Savage (36)
1-2 Adel Taarabt (39)
2-2 Gavin Mahon (46)
2-3 Jay Simpson (58)
2-4 Akos Buzsaky, pen (89)


Pride Park Stadium, Derby: 30,135.


Derby County (4-4-2): -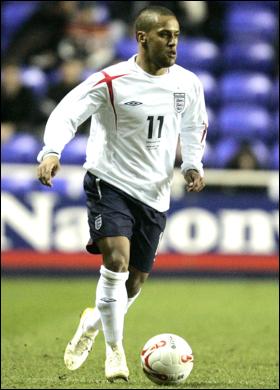 Wayne Routledge was the best player on the pitch. Sheer quality and far too good for Derby's defenders

Stephen Bywater [5] - GK - Made some good saves and had no chance with three of the four goals. Probably could have lined the wall up differently for QPR's opening goal but the post was covered and Taarabt curled the ball round the wall brilliantly.



Fredrik Stoor [6] - RB - The most solid defensively out of the back four. QPR certainly caused the Rams more problems down the other wing and through the middle. Showed a nice touch and passed the ball well. Unable to get forward as QPR consistently had the Rams on the back foot. Left the game early after a freak facial injury.



Shaun Barker [5] - CB(R) - Started the game in dominant fashion, very strong in the air, winning all his headers in the first half hour and tackling well. Lost his dominance though as the game progressed. Was caught out ball watching for both QPR's second and third goals.



Paul Connolly [4] - CB(L) - Started the game well in an unfamiliar position and was particularly strong in the air. Dived in to concede the free-kick that led to QPR's first goal. Was caught out ball watching for QPR's second goal and was out-muscled for QPR's third goal. Noticeably lost confidence as the game progressed.



Dean Moxey [4] - LB - Playing with a groin strain, he had the job of picking up Wayne Routledge and struggled to contain the Man of the Match throughout the game. Failed to cut out the cross for QPR's second goal, was out-manoeuvred for their third goal, and conceded the penalty for the fourth goal. Unable to get forward, due to the quality attacking prowess of Routledge and QPR.



Lee Croft [3] - RM - Quite simply he didn't do enough - didn't see enough of the ball, didn't show for the ball enough, didn't track back and close QPR down enough, didn't challenge enough when crosses and passes came his way in and around QPR's penalty area. On the rare occasions he was able to attack, his crosses were woeful.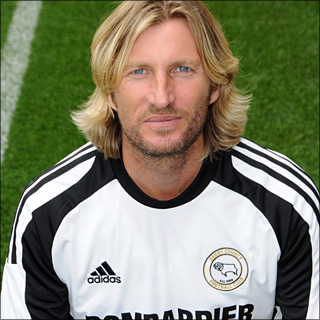 Robbie Savage was a deserved winner of Rams' Man of the Match for his assist, goal, and overall work rate

Robbie Savage [7] - CM(R) - Voted the Rams' Man of the Match and deservedly so for his vision to take a quick free-kick for the opening goal and the sheer brilliance of his perfectly placed free-kick for Derby's second goal. Worked hard throughout, both with and without the ball, summed up by sprinting half the length of the pitch late on to make a last gasp challenge in the penalty area. His passing could've been better at times, but QPR closed down quickly and not enough Rams players showed for the ball.



Bryan Hughes [5] - CM (L) - Started the game well and looked to drive the Rams forward. His passing generally was creative and designed to get Derby moving forward but too many of his passes went astray. Faded the longer the game went on, probably due to his lack of match fitness.



Gary Teale [5] - LM - Had a fantastic chance at 2-0 but was leaning back and fired his shot over the bar from inside the penalty area. Worked very hard during the game but, unfortunately, with little end product. Took more responsibility tracking back than usual so that Routledge couldn't double-team Moxey with an overlapping full-back, but didn't tackle enough and was caught out of position a few times. Going forward, saw much more of the ball than Croft, but was unable to do much with it. His best moment was winning the ball back after an over hit Croft cross, cutting inside, crossing well, only to see Radek Cerny pull off a good save from Rob Hulse's header.



Paul Dickov [5] - SC - Had some good moments. Was awake to Savage's quickly taken free-kick to score the opening goal with a clinical finish. Showed his experience to win the free-kick for the second goal. Unfortunate not to make better contact with an acrobatic overhead kick on the edge of the six yard box. Gave the ball away with a terrible pass inside QPR's penalty area that directly led to the counter attack for their equaliser. Generally was far too static and dropped back way too deep which made it even harder for Hulse to hold up the ball and link play.



Rob Hulse [5] - SC - Didn't get enough success leading the line, hardly won a single header, was very static, and conceded possession a lot. When he did win his headers, or chested the ball down, or received it to feet, he looked like last season's striker, but those moments were far too infrequent. Was unlucky with a good header that Cerny saved well, but headed another first half opportunity high over the bar. Had a glorious chance to equalise at 2-3 but blasted his effort into orbit.



Substitutes: -



Jake Livermore [6] - RB (for Stoor, 61) - Despite playing out of position at right-back he didn't look uncomfortable there. Showed an urgency and work rate that was lacking in too many of the starting 11. Made more of an effort to get forward than Stoor or Moxey.



Steve Davies [5] - SC (for Dickov, 67) - Came on at a time when QPR were rampant and struggled to get into the game. Clearly didn't look match fit after nine weeks out and didn't really trouble QPR's back line at all. When he did have the ball, tried to be too clever rather than doing the simple things.



Stephen Pearson [6] - CM(L) (for Hughes, 67) - Despite being out for four weeks, he showed a high work rate and drive to get Derby moving forward. Made some trademark forward runs from midfield and was unlucky that more didn't come from them.



Subs not used: Saul Deeney, Jake Buxton, Lee Hendrie, Greg Mills.