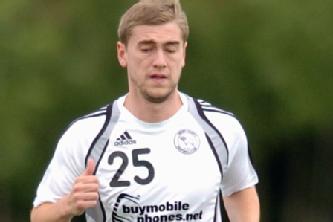 Following a clash during the later stages of Saturday's game against Southampton, Steve Davies will now be out of action for the rest of the Year.
Davies was pole axed on the edge of the penalty area with 12 minutes of time to go in the top of the table clash. Davies was carried off and immediately taken to hospital for what was hoped would be a precautionary scan.
Unfortunately for the injury hit Davies it was found he had a skull fracture but it was not until they surgeons had operated that it was found how bad the injury was. He suffered a fracture above the eye brow.
The injury will take time to heal and the position of the fracture means Davies will be unable to use a shield, used in many fractures to the cheeks and eye sockets, so the estimated recovery time until the fracture is stable enough for the rigours of the Championship has been raised from an expected 6 weeks to 12.
It is hoped that Davies may be back in the side early in the New Year but his striking power will be missed during this period, having scored five goals in the opening eleven games of the season.
With John Brayford already sidelined for five weeks with a thigh tear, manager Nigel Clough must now earn his new contract by shuffling the Rams pack, or bringing in loan players to keep the momentum of the early season success...