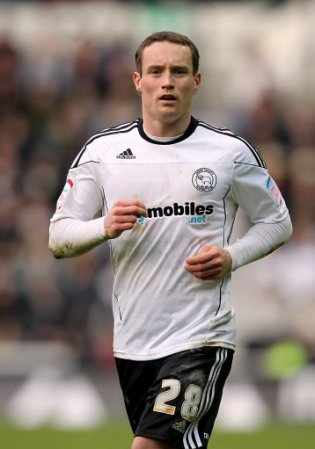 Derby County are pleased to announe that Ben Davies has signed a further one year extension to his current contract. Davies contract would have run out this summer but Nigel Clough sees the 31 year-old as an effective player in the second half of games.
Davies came on with good effect last season and Nigel Clough stated he was "pleased Ben is going to be sticking around for another year". adding, "he is an important player off the bench".
Ben accepts that he will not be starting many games next season but thinks he has a lot to give when coming off the bench. Davies has been with the club since January 2011, after signing from Notts County.
Ben Davies (Derby County) information
Date of birth
Wednesday, 27th May 1981
Height
5ft 6in
Place of birth
Walsall, England
Weight
10st 7lb
International
Position
Midfielder
Comments
Squad No.
18
Total appearances 452 (+ 54 as sub); Goals 76; Yellow cards 63; Red cards 0