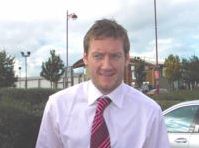 Steve Howard super striker and Dad
It's a girl! Was the happy shouts at the Howard household. Steve Howard had played on of his best matches of the season with the knowledge that his wife could have given birth at any moment.
Baby Howard arrived safely and is the second child for the Rams leading scorer. Howard will now have until April 9th to share nappy changing and feeding duties after collecting his tenth yellow card of the season and the two match ban that goes with it.
Billy Davies had joked that he deliberately had himself booked to spend more time with his new daughter.
Howard will now miss the two away games against Barnsley and Leicester City before he can return in the home game against Coventry. Lets hope a few sleepless nights don't put him off his goal scoring , as the Rams close in on a Premiership place.