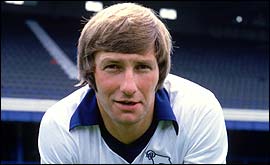 Former Rams central defender and manager is to have heart by-pass surgery after experiencing pain in his chest at the training ground of Randers FC in Denmark, where he now manages the club.
Todd was upbeat about his impending surgery, which will take place in Aarhus, explaining that hospitals in Denmark are better than the UK. An exact date for his surgery is not yet known but is thought to be in the near future.
The Derby County legendary defender played 371 times for the Rams between 1970 and 1978 and formed a solid defensive partnership with Roy McFarland at the club and for England, playing 27 times.
Todd also went on to manage Derby but it was not one of his more successful times at the club. He came as assistant to Jim Smith, and took over as manager for only three months.
All at Derby County mad hope the surgery is a success for the 65 year old and he is back to management soon...