Andy Todd named by tabloid in Rams clear-out

Cloughie's clear-out is what the newspapers are calling it but confusion reigns as to the people actually going out of the Rams squad.

The News of the World is quoted as suggesting that Andy Todd, Miles Sterjovski and Steve Pearson will be following Giles Barnes out of the door either on emergency loan or simply released.

Andy Todd has only just returned from Injury and total rejection by Paul Jewell and starred in his first game back against Manchester United in the first leg of the Carling Cup semi final, which the Rams won, 1-0. He has proved that he still has what it takes to be a defender in the Championship.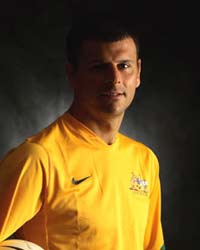 Mile Sterjovski Australian International may also be on the way out

Likewise Mile Sterjovski was also a member of the winning Rams side in the Carling Cup semi and showed for the first time just what he can do in midfield for Derby.

The Jury may be out on former Celtic midfielder Stephen Pearson but the lad has had injury problems and again was seemingly frozen out by Paul Jewell during the season Horrabilis of last season. Pearson is a Scottish International and has seemingly a lot to give to Derby.

One of the main reasons that Derby County are wanting to lose player of this quality and experience maybe the wage packet. With Derby County rumoured to be having to economise maybe these players are on too much money and the club are looking to bring that down to an acceptable level.
Stephen Pearson Wembley match winner may be another player looking at being pruned by Nigel Clough

We suppose it is just a case of wait and see for now, as the club refuses to be drawn on the question of finance at the present moment in time and Nigel appears to have sorted out a leaner meaner set of players who he thinks can set the Rams back on the road to the promised land...