In a season that has been tight at the top for many months, this has to be a season defining game at the Goldsands Stadium on Tuesday evening.
Both teams are on 57 points after 29 games so far this season and just three goals the difference between them, it all bodes well for a cracking game but one full of tension.
There will be 1,374 luck Rams fans cheering on the newly strengthened Rams team and many more at the live beam back at the Ipro Stadium. All tickets for the game itself and the beam back are sold out. Tickets for the game sold out in January.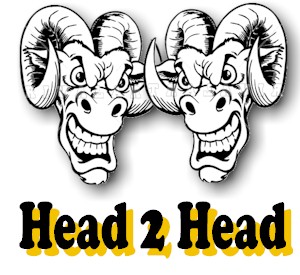 Middlesbrough will be looking to capitalise on any slip ups by either team as they sit just a point behind the leading pair.
Taking a look at the home and away tables the game becomes very interesting. Currently in the home form table Bournemough sit in 5th place winning 8 drawing 3 and losing 3 of their games. Where as Derby sit in top spot for home games. Take a look at the away league table and Bournemouth are in top spot with the Rams just behind in second. So if you are a stats person it would seem the Rams may take at last a point away from the Goldsands Stadium.
Head to head in games between the two sides things couldn't be closer. Games away at Bournemouth have produced a win for Bournemouth, a win for the Rams and a draw, both teams scoring twice in the games.
At Bournemouth (3)
At Derby County (4)
Results
Total
%
Results
Total
%
Bournemouth
1
33.33
Derby County
3
75.00
Derby County
1
33.33
Bournemouth
1
25.00
Draws
1
33.33
Draws
0
0.00
Goals
Total
Av.pg
Goals
Total
Av.pg
Bournemouth
2
0.67
Derby County
8
2.00
Derby County
2
0.67
Bournemouth
3
0.75
On Neutral Ground (0)
Overall (7 matches)
Results
Total
%
Results
Total
%
Bournemouth
0
0.00
Bournemouth
2
28.57
Derby County
0
0.00
Derby County
4
57.14
Draws
0
0.00
Draws
1
14.29
Goals
Total
Av.pg
Goals
Total
Av.pg
Bournemouth
0
0.00
Bournemouth
5
0.71
Derby County
0
0.00
Derby County
10
1.43
Records
Highest Aggregate
5
Derby County
2 - 3
Bournemouth
1984/1985
Highest Bournemouth score:
3
Derby County
2 - 3
Bournemouth
1984/1985
Highest Derby County score:
3
Derby County
3 - 0
Bournemouth
1985/1986
| Season | Date | Home | Score | Away | Competition |
| --- | --- | --- | --- | --- | --- |
| 2014/2015 | Tue 30 Sep | Derby County | 2 - 0 | Bournemouth | Championship |
| 2013/2014 | Sat 22 Feb | Derby County | 1 - 0 | Bournemouth | Championship |
| | Sat 23 Nov | Bournemouth | 0 - 1 | Derby County | Championship |
| 1985/1986 | Sat 18 Jan | Bournemouth | 1 - 1 | Derby County | Third Division |
| | Sat 17 Aug | Derby County | 3 - 0 | Bournemouth | Third Division |
| 1984/1985 | Wed 30 Jan | Derby County | 2 - 3 | Bournemouth | Third Division |
| | Sat 25 Aug | Bournemouth | 1 - 0 | Derby County | Third Division |
| | | | | | |