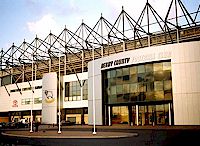 Outside Pride Park
An angry crowd of around 300 Rams supporters waited for an hour in a vain attempt to get Lionel Pickering, chairman of Derby County Football Club to speak to them.
The gathering took place immediately after yesterdays 3-1 defeat at the hands of fellow Premiership strugglers Ipswich Town.
After nearly an hour the crowd dispersed of it's own free will and no further disturbance was noted. The supporters may have to do more than stand outside on a cold January night to make any of the directors see just how dissillusioned and worried most Rams fans are at the present moment.