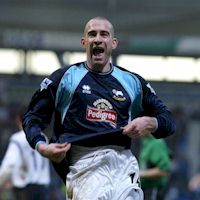 Danny Higginbotham has to be worth £2million
Southampton hope to raise their bid to an acceptable bid of £2million for Rams defender Danny Higginbotham.
Saints Chairman Rupert Lowe has said that Derby County's valuation of Danny is high but the deal is not dead. The Rams valuation of Higginbotham is however justified in many peoples eyes simply because they paid Manchester United £2million some two and a half years ago (July 2000) for a raw 22 year old. Danny has now taken the Rams Player of the Year award and turned into one of the games best defensive properties.
Full details of Danny's career can be found by clicking here.

Rory Delap bought by Sothampton for £4million
Southampton have been to Pride Park on a raid earlier and have struck gold with Rory Delap. He joined Southampton in July 2001 and has proved a valuable asset to the Hampshire club.