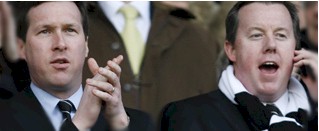 Tim Hinchey (right) will return to the USA in the New Year after his three year contract expires at the end of January

The Club has announced that Commercial Vice President, Tim Hinchey is to step down from his job in the New Year.

Mr Hinchey has been with the Rams since January 2008 and his contract he signed will run out in February 2011. Hinchey came to Derby County as part of the management team, which includes CEO, Tom Glick.

No reason for the discontinuation of Hinchey's contract has been forthcoming, only a statement that he is returning to the USA for the sake of his children's education. One of Mr Hinchey's six children will be coming up to the age where they will be attending college and feels he must give them the opportunity to receive this type of education.

All of Mr Hinchey's children will return to the USA during the Christmas period, which is an obvious break in the school year, allowing the children to start the new year and term in the respective American schools.

Hinchey himself will remain in England and continue to do his job at Pride Park until the end of January, his contract runs out on the 1st February.

The departure may fuel claims that more of the Rams backroom management team and directors are looking to return to the USA, although no statement of any further departures has been received...