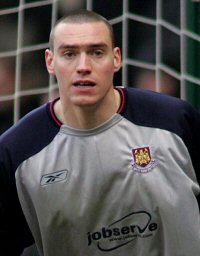 Stephen Bywater signed on a three year deal
The Rams have completed the signing of Goalkeeper Stephen Bywater from West Ham.
Bywater was on loan to Derby County for a month to get around signing on problem and enabling to compete in his first game against Hull on the 12th August.
The latest Derby County signing has cost the club £350,000 and Bywater has signed on a 3 year deal.
Bywater was missing from Saturday's 4-3 loss to Colchester United and will hopefully be back in action for Derby County's next match against Sunderland at Pride Park on the 9th September.