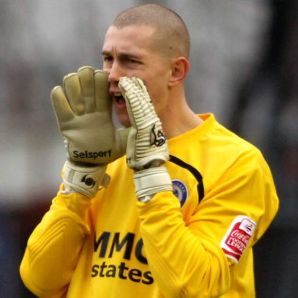 Derby County fans have been hit with the news that loan keeper Frank Fielding will be ineligible to play in the final eight games of the season. The Blackburn Rovers loanee has fallen foul of FA rules which states a player on an emergency loan can only play for 93 days in any one season, As Frank has been with the club previously this means he will be unable to play in the seasons tense relegation battle, which the Rams now find themselves in.
The club insists that they knew about the ruling but it seems strange that they allowed allegedly injured Stephen Bywater to go out on loan for the rest of the season. It is true they have a 24 hour recall on Bywater but state they will not be using this recall and Bywater will stay with Cardiff until the summer, with the possibility of a permanent move.
Although Fielding will be left kicking his heels for the final eight games he is to stay at Pride Park and it seems a move will be made to replace Bywater with the Blackburn number three keeper.
Derby will rely on 21 year-old Ross Atkins as deputy to Matt Duke for the final eight games of the season. Duke has only had 45 games at Championship level whilst on loan with Hull City in 2004. So the Rams enter a phase of the season that is vital to their Championship status with goal keepers of limited Championship experience. If this is by design does it not add to the growing thought that Clough, or more likely Tom Glick and other Rams board members "don't know what they're doing"?..