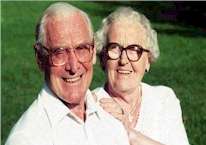 Bert Mozley and his twin sister photographed a few years ago
It's not very often and ex Derby County and England player emails you for help but this is just what has happened here at Derby County Mad.
Former Allestree boy Bert Mozley has contacted us from his home on the island of Galiano in Canada to ask for Rams fans assistance in trying to track down footage of himself in Derby County or England action so he can show his Grandchildren and Great Grandchildren. Bert is now 83 but still as fit as his time playing right back for Derby County and England.
Bert played for the Rams from 1945 until he left England to set up home in Canada in the early 1950's. His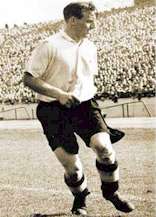 Bert Mozley during his playing days
International career spanned just one season and three games in the 1949-50 season. He played against Republic of Ireland, Wales and Northern Ireland in that season and would of course love to hear of any footage of those games. You may be interested to know that only injury and a certain Alfred Ramsay robbed him of his England place. Sir Alf of course going on to manage England to World Cup glory.
Any information of possible websites or private collectors who may be able to help Bert would be very much appreciated by the Mozley family.
Please Email us at
Derby-county-mad@fsmail.net
if you have any information.