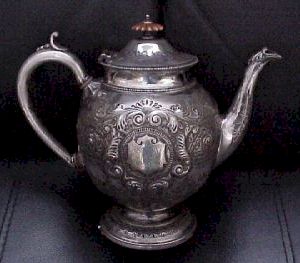 The 1891 Teapot that has an aire of mystery attached
A mystery silver plated Victorian Tea-pot/trophy has been placed up for auction on the Ebay site.
The mystery item appears to have been presented to the club on the 5th July 1891, although research has shown that league games were not played at that time of year. The 1890-91 season started in September and finished in March.
The person selling this item according to the Ebay listing comes from "Bonnie Scotland", so the mystery intensifies. The Rams have had several Scottish players of course over the last 115 years since the trophy was presented but could this item be a spoof trophy jokingly handed to Derby County's Scottish goalkeeper David Haddlow. The Scot pulled the ball out of the Rams net no fewer than 69 times in just 16 league matches ! He went on to be a Scottish International with Rangers.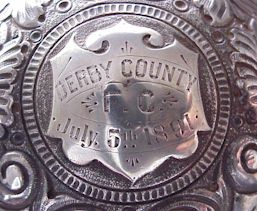 Inscription to Derby County on the Victorian teapot
It seems no matter what this trophy signifies, Derby County fans in their hundreds are keen to own the item. With over 5 days to go in the auction it has already reached £205.01
With items of this age and connection with Derby County becoming increasingly rare maybe the officials at Derby County should be taking a look and maybe buying the item for the club and its fans. After all how many trophies, or teapots of this age connected with Derby County have you seen?
For those of you who want to bid or just take a look at this superb item of Rams memorabilia please click here.
Good luck and maybe the eventual winner will contact us her at Derby County Mad