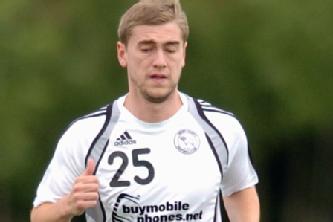 Rams goalscorer Steve Davies has publicly admitted that he will be leaving Derby County before the start of the season.
He tweeted on Twitter his thanks to Rams fans but he is going to leave the club possibly for a team in the South of the Country. This seems to be a denial that Ipswich Town and Paul Jewell have upped their offer for his services.
Ipswich are said to have offered £500,000, which was not accepted by the Rams. Paul Jewell brought Davies to Derby after a tribuneral case, the rumoured fee being £750,000. It would now seem strange if the Rams let Davies go for any less than that figure, given that Davies is still only 24 and in the form of his career at present.
Davies also tweeted that his reason for leaving 'is' for family reasons and nothing else. He said he was happy during his time at Derby...