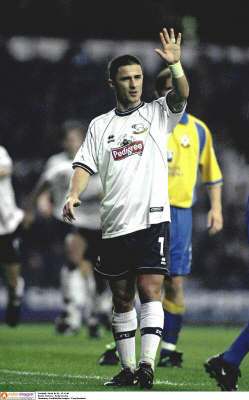 A sad farwell to Benito Carbone

Bye, Bye Benni!

Yes, Benito Carbone is leaving the club after his 3-month loan spell from Bradford City.

Officials at the club have said that a permanent deal in not going to happen as Carbone has two and a half years still to run on his Bradford contract. This would mean the Rams paying the contract off and would make the move somewhere in the region of £5million, which obviously the Rams can't afford.

The popular little striker has played well in his 14 matches for the club and Colin Todd is sad not to be able to make the move a permanent one.

Carbone should have had one more match for the Rams but his sending off at West Ham on Boxing Day, means he is banned for that game.

With news that manager Colin Todd is prepared to let Midfielder Giorgi Kinladze also leave the club if an offer comes in, The Rams are beginning to look a bit thin on the ground not only in quantity but in quality.